BlackVue DR650S-2CH Dash Cam 16GB
BlackVue DR650S-2CH Dash Cam 16GB
Product Description
BlackVue DR650S-2CH Dash Cam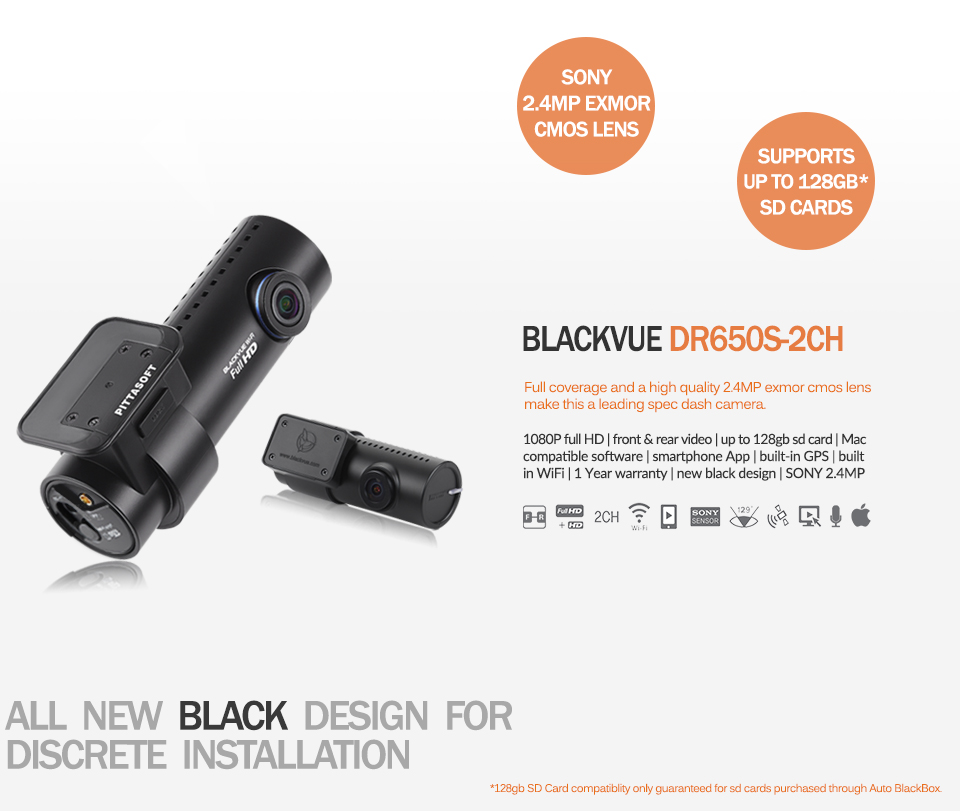 Product Videos
BLACKVUE DASHCAM: DR650GW-1CH Sample Day (#1)
00:57
BlackVue DR650GW-1CH Sample - Day. BlackVue. Your Reliable Eyewitness. LEARN MORE about BlackVue DR650GW-1CH: http://www.blackvue.com/dr650gw-1ch/ SUBSCRIBE to our channel: http://bit.ly/BlackVue_Sub OFFICIAL BLACKVUE WEBSITE: http://www.blackvue.com Follow us on social media! BlackVue on FACEBOOK: https://www.facebook.com/BlackVueOfficial/ BlackVue on TWITTER https://twitter.com/BlackVue BlackVue on INSTAGRAM: https://www.instagram.com/blackvueofficial/ BlackVue on PINTEREST: https://www.pinterest.com/BlackVueC/ BlackVue. Our mission is to simply make the best dashcams in the world. Contact us: marketing@pittasoft.com Customer Support: cs@pittasoft.com Sales Inquiries: sales@pittasoft.com
BLACKVUE DASHC...

BlackVue DR650GW-1CH Sample - Day. BlackVue. Your Reliable Ey...

BLACKVUE DASHC...

BlackVue DR650GW-1CH Sample - Night. BlackVue. Your Reliable ...
Product Reviews
Write Review
A capable, discreet, and reliable witness for your travels.

Posted by Paul Baily on 16th Nov 2016

After a lot of research we picked this camera for both of our cars. It may seem pricy compared to others but I think it's well worth it. The cameras are elegant and low key in design; the front unit can be installed to be almost completely hidden by the rear vision mirror, and the rear camera is so small that it's barely noticeable. The wifi functionality along with the software are excellent. Both front and rear footage is combined with timelines, map location, speed (optional), even three axis G-force, and in-cabin audio (optional). The camera settings and its footage can be accessed either indirectly by extracting the MicroSD card and using the provided USB reader and software on a Mac or PC, or accessed directly via wifi from an iPhone/Android. There's a live view feature that's also really handy for mounting and aligning the cameras.

There's no shortage of YouTube reviews and sample clips out there for this model so I'd recommend taking some time to have a look.

I'd like to also add that Strathfield Car Radios are well worth considering when buying. They're an authorised Australian Blackvue dealer so no hassles with any warranty claims should you need it. I also found them very competitive on pricing with blazingly fast shipping.
Find Similar Products by Category